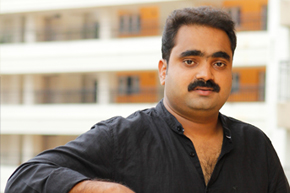 Abdul Manaf, Founder and CEO
As a hardcore fan of Bill Gates, Manaf starts dreams of building something great in future when he was doing his higher secondary education in 2002 and with inspiration from Microsoft, he named his future company as "Easysoft". It was not just a wild dream, but o ne, which would define the very objective of his life in years to come. In 2005 Easysoft becoming a real life business when Manaf and his class-mate Shamal Chandran started with freelance static web designing services, which led to them eventually dropping out of their course and starting Easysoft Technologies in 2006.
In 2009, he started the association with Padma Shri Mammootty for re-designing his official website and this association turned into a lifetime partnership. In 2012 Abdul Manaf co-founded "Movie Gear" with Mammootty, a digital marketing company with prime focus on celebrity management and films. Over the next years MovieGear worked with various superstars like Dulquer Salmaan, Fahadh Faasil, Nivin Pauly, Unni Mukundan, Dileep, Jayasurya etc…
From 2009 onwards, Abdul Manaf working as the Social Media Manager to Mammootty. From 2012, he started working with Facebook India officials as a strategic partner in public contents, he worked with all the celebrities, politicians, media companies from Kerala as their Social Media Consultant.
In 2014 June, Kerala Government appointed Easysoft Technologies to execute an Anti-Drug Campaign called "Addicted To Life" and Abdul Manaf appointed as the Campaign Director. The campaign turned out to be the largest "Good Cause Social Media Campaign" in the country with a reach of more than 15 Million people. More than 80 leading celebrities and 3 lakh people participated in the campaign
In 2014 September, when the ALS Ice Bucket Challenge was making news across the world Abdul Manaf co-founded the famous tree planting campaign "My Tree Challenge" with Mammootty and renowned travel photographer Imthiaz Kadeer. Which was focused on propagating the concept of afforestation via planting of saplings. The concept was – One person would plant the sapling and challenge 3 others to do the same. They would then challenge three others and so on the cycle would flow.
The campaign went viral and generated huge media coverage as more than 50 celebrities, various institutions, organizations, colleges and the common public across the length and breadth of India joined the campaign. More so, the challenge even travelled overseas, with being carried out in Australia, UK and Philippines, to name a few
In 2015, Abdul Manaf Founded "TastySpots" A Platform to explore curated and qualified list of local's favorite food spots and dishes with virtual experience. The start-up was an instant hit Kerala, as the App is downloaded more than 100K times within 60 days time
Abdul Manaf own several awards including the APJ Abdul Kalam Foundations Youth Icons Award 2016 for the campaign My Tree Challenge, Excellence Award from Kerala Chief Minister Shri Oommen Chandy for successfully executing the Addicted to Life Campaign and the Business Excellence Award 2016 from Kochouseph Chittilappilly's KC Foundation and VBA.